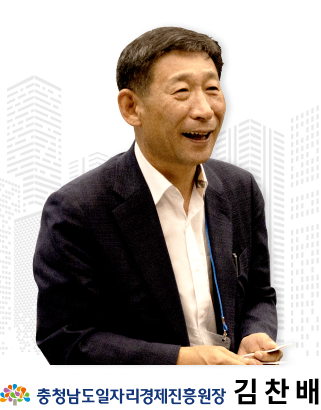 Hi.
This is OH Gwang-OK, CEO

of Chungcheongnam-Do Economic Promotion Agency.

The Chungcheongnam-do Economic Promotion Agency was established in 1999 with the aim of revitalizing the local economy and successfully completed more than 20 years of operations.

I would like to thank all the visitors, the employees of the CEPA, and people of Chungcheongnam-do for their love and support during our journey. I ask for your continued love and support.

We are committed to achieving our objectives, and providing every help possible in finding suitable opportunities of growth to all Small and Medium Business Entrepreneurs in Chungcheongnam-do.

I also extend my heartiest greetings and good wishes to newly founded "Indonesia Business Centre of CEPA (CEPA-Indonesia). CEPA-Indonesia aims to explore Indonesian market and support Chungcheongnam-do companies to expand their business in Indonesia.

I wish them all the success in future.